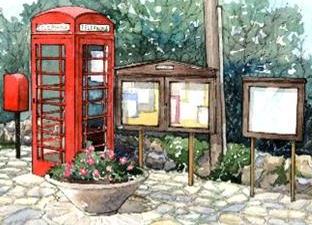 (Painting of the kiosk by Mike Truman)
The first application to have a Telephone Box in the village was made in March 1936 … this refused on the grounds of high installation costs and the expectation of low usage and revenue. The Parish Council called upon the local MP who arranged terms with the Post Office to install a Telephone Box for £4 per annum for 5 years!! This was agreed and the box was installed and ready for use by the end of 1936.
In the year 2008 (after 72 years of use) the Parish Council were advised that unless £500 per annum is paid to retain the box in working order or alternatively £1 is paid to adopt and maintain the box (without telephone) then it would be removed. This was a national situation due to the advent of mobile phones rendering telephone boxes obsolete.
Many villagers expressed their desire to retain our telephone box as a monument and from November 1st 2008, having paid the £1 fee, the non working box will remain and becomes the responsibility of the Great Hinton Parish Council.
It was in 2010 that the Parish Council arranged and paid for the telephone box to be restored and professionally redecorated inside and out. The standard of workmanship gave it the appearance of being brand new. Discussion of its future use took place and it was finally agreed that book shelving should be installed to provide Great Hinton with a mini-library. The shelving was installed and ready to use in July, 2011
In the library are books for adults and children. Just take a book; read it; and acknowledge you have read it by signing inside the front cover. If you want to donate a book just leave it in the library.
The contents of the library are regularly reviewed by Anne & Gwen and surplus stock donated to charity.